Dear beautiful daughter, my dearest Grace,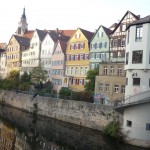 Once upon a time, there was a beautiful city, over a thousand years old, named Tübingen. It lay surrounded by vineyards along the lazy Neckar River. Beyond it on one side was the dark, primeval and hauntingly beautiful Black Forest. Beyond it on the other side loomed the Swabian Alps, the mountains capped with castles and monasteries and further in the distance, brilliant snow.
The old gray cathedral cast cold shadows about it, especially the window of the martyrdom of St George (one of several, apparently; a durable fellow) showing his limbs being threaded through a giant wheel. But the town hall, with the gilded paintings staring down upon the brightly colored umbrellas of the farmers market always seemed warm. At Christmas, the market would fill with crafts and toys, and the smell of gingerbread and candied almonds and fresh Crepes. In the warm summers, the students would guide long boats up and down the river beneath the ancient city walls with poles, and would sing folk songs.
The narrow cobble stone streets had been tread for hundreds of years by famous poets (Holderlin, Hesse), philosophers (Schelling, Hegel), scientists (Kepler, Alzheimer), Theologians (Melanchthon, Moltmann), students, even a few saints, and one wandering boy.
This was my Tübingen, the city I eventually discovered, and which I return to in my memories, and which I am always embarrassed to talk about because it sounds like I made it up. It was never my own city—it had belonged to others before Christ was born—but because I was my own self we could look at each other, and nod, and grin.
As I said, however, it was the city I eventually found, and the city I remember, not the one I arrived in. I arrived feeling very small, my shirt un-tucked, my dark bangs in my eyes, clutching the only two or three things I owned in a pillow case. The most important thing in that pillowcase, the most valuable thing I owned, was the threadbare stuffed giraffe who would often seem like my last and only friend. Leaving Pennsylvania, I would never again completely feel at home.
The next day, I went to school, only knowing 3 words of German: Schwester, Gabel, & Wohnzimmer (Sister, Fork, and Living Room). Although I could pass for a German—and even for a local, a Swabian—within a year, I never would be; I would always be an alien, a stranger, an outsider. At the time, I was under the impression that returning to America would be like returning home, but it wasn't. I had become a stranger.
I think that is why I love wandering—that is the place where I am supposed to be a stranger; it hurts to feel like a stranger when one should be settled, but it feels natural when one is a wanderer. In addition, I am good at learning how to adapt to a strange place; it doesn't feel as foreign because I expect every place to feel foreign, but I also expect to find the stories, the wonders and the sensations I found in that magical city on the Neckar River.
It taught me how to survive loneliness and pain, and to rely upon myself; sometimes, that is good, sometimes I suppose it isn't. I have trouble trusting people, of relying on them. No, that's too simple. I don't trust people, and I don't make the effort to help them be people I will rely on, to let them know what I need, because I am afraid of needing anything.
Talking to Dwayne, one of the owners of The Beckner on Main, the other day, he said that one of the things he learned living as a child first in New York, then in the Caribbean, then in Southern France was to become an accomplished mimic. For most folks, their voice—the words and persona they present to the world—is an unexplained starting place. For a person living in a foreign culture, the voice is a projection of which one is sharply aware and which one always must strive to control or conform. Your own voice is both your own and the force of a foreigner, a stranger's voice. It becomes part of a projected you between your private self and the alien world.
Many people who move a lot feel this, this strangeness of who they have to keep becoming; in a foreign language, this strangeness is much more pronounced (a truth, as well as a subtle pun).
Although I could pass for a native, I often chose not to; I knew I was not, and chose be be who I was—I would never feel at home in Lederhosen. Being the foreigner taught me not to fear being weird, because I had no chance to be "normal." There was a power, almost a magic to being different, to being exotic, like the giraffe who came to Paris in 1825. I could invent stories that were new to them, and, although I was awful at their games (mostly soccer), I was good at inventing games because I wasn't bound to the world in front of me the way they were.
It taught me German, which is helpful, and which is a beautiful language, and it taught me how to think in German, which is not at all the same as thinking in English. For a few years after getting back into English, I would still reason things through in German which had to be logical and organized. English is a language of daydreaming and imagining, but German is a language of science and philosophy.
When, in a graduate course, Alasdair MacIntyre discussed a topic which was in his then forthcoming book, Whose Justice? Which Rationality? suggested that different languages and cultures actually lived in different worlds, it made sense to me, because I had already lived in a German world and an English world, and I knew they were different, and that the only way one would understand that was to live in each. When I encountered Heidegger's statement that "Language is the House of Being," I knew how powerful that statement really was. Eventually, I would choose to write a Thesis on Johann Gottfried von Herder because his Outlines of a Philosophy of History from a Cosmopolitan Point of View explores how languages and cultures form us, but how that ultimately remains untranslatable, and sometimes even incomprehensible to those outside that culture. Later, I wrote my dissertation on Social Practices and Cross-Cultural Understanding.
Although our world is becoming more and more homogeneous, it is also very fragmented. We all move through many cultures—subcultures, generally, but pockets of difference—and we encounter many strangers each day. To recognize oneself as a stranger in a strange place, "a wandering Aramean," is to open oneself to accepting and offering hospitality along the way—to children and waitresses and all.
The Swabians around Tübingen were direct and blunt, generous and kind, a little vulgar but in an earthy sort of way, and loved to argue—directly, passionately, and loudly. This is southern Germany, and like folks from most southern regions they were proud, but hospitable; they welcomed strangers and enjoyed talking.
They also loved the outdoors, our class was always taking long hikes, and my friends and I spent hours exploring the primeval forest between our apartment complexes at the edge of town and the little monastery village of Bebenhausen down in the next valley. They loved music; because of it's consonants, German sounds like a harsh language, but because of its vowels, it sings beautifully. Most of my classmates knew old folk songs, and we would sing them on our long hikes. Our congregation sang beautiful harmony, and when we sang in counterpoint, it sounded like alpine shepherds singing back and forth to each other across the mountains. It is no accident that so many great composers—Bach, Mozart, Beethoven, and so many others—grew up speaking German.
They also loved good food—and they could make it! The Spätzle and the Knöpfle and the Maultaschen, the Laugen Pretzels warm from the bakers oven with cold butter, the Zwiebelkuchen baked each year as the new wine was sold, a whole universe of soups and fresh vegetables in season, and deserts, wonderful cakes and tortes and chocolates, served with dark coffee in fine china or hot tea in thin glasses.
The University culture was like the intellectuals you see in movies about the 19th century, always arguing about ideas, always protesting something, always reading or writing. The Hippies & Greens of the 70s had the same passion that the students supporting the French Revolution on the same stones had 180 years earlier. Intellectual life was not passive, but passionate.
I have taken all these things, and they are all part of who I am. They form the things I love to this day, my passions and my pleasures.
Most of all, somewhere deep inside me I still often feel that little lost boy clutching his stuffed giraffe, and each time I see somebody lonely or sad or feeling like an outsider or feeling like they are the strange one, I feel him inside me, alone and afraid, raw as ever.
Each attempt to be kind to someone is an attempt to reach that little boy and make him feel welcome.