I am tempted to say that the whole European travel last summer was magical, but that is not the best term. It was so very real. The most wonderful places amazed us by just being themselves–so very themselves.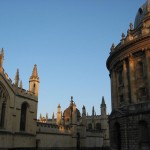 Oxford is Oxford.
Although Cambridge has been the British University for philosophers, I adore Oxford.
Every moment the town is alive and vibrant, yet mellow and thoughtful. Most of the stones have been there since the Tudors and Stewarts, yet each year a new wash of young students pour over them.
I fell in love with Oxford as a young boy.
As I have mentioned before, we were living in Germany, and my parents were sometimes afraid we would forget the English language, so we would go to England once a year. They would take me to Blackwell's, a very fine, very old bookstore on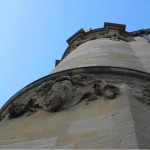 Broad Street. It seemed like the biggest bookstore I would ever see, which meant it was the best possible place in the entire universe to be.
The Bistro is currently located in a town with a university, but this is not really a university town. Other than a disproportional number of places one can get drunk, there is very little to indicate that there is a university here.
Oxford, by contrast, is a university town (as, by the way, was my home, Tubingen). Being a university town means being aware of a lot of students, but also being aware of the place as a place where people come to learn and to think. There is no reason to pretend that you are not Oxford since Oxford is the place to be.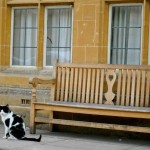 Oxford is a university, but that university also consists of a federation of 38 quasi-independent colleges, such as Trinity College, Merton College, Balliol, etc. One of our nights there, we had the good fortune to sleep in Mansfield College.
The Porters' cat is named Erasmus.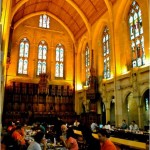 The breakfast was amazing.
I have already told the Oxford story involving the surrealism of the marching band playing YMCA, but the walk that more than anything told me what was possible in Oxford was a few nights later. We had eaten supper and The Eagle and Child–hangout of the Inklings–had walked across and behind St Giles to cut down Keble Road and east.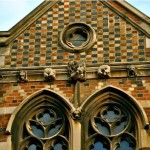 Keble College amused my daughter no end–and she would still laugh about it for days. A guide book I had read described Keble and having "Brick like an ugly Christmas sweater," and that may be an apt description. In general, the gargoyles of Oxford are droll and funny–the stone masons clearly had a sense of humour and several pints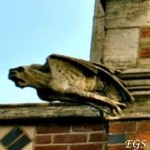 inside them–but Keble has the funniest. The expressions of these fantastical stone creatures had us laughing out loud until we reached Parks Road.
We spent some time in the park–Oxford has huge amounts of green space. Like any good University town, there were plenty of students making the best of the last of the day's sunshine.
As we walked back on Parks Road, we passed a huge beautifully made iron gate–the Parks Road Gate of Trinity College, leading into "The Lawns.". On the other side were lawns and  gardens, and a company performing Pride and Prejudice.
Mrs. Bennet: Have you no consideration for my poor nerves? 
Mr. Bennet: You mistake me, my dear. I have the utmost respect for your nerves. They've been my constant companion these twenty years.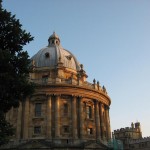 A block further, we passed the courtyard of the Bodlean Library, where the Royal Shakespeare Company was performing Taming of the Shrew. Going behing the library to the Radcliffe Camera, we sat on a worn stone stair and listen to a baroque concert.
Austin, Shakespeare and Handel within a ten minute walk, one of the finest bookstores of the world, all surrounded by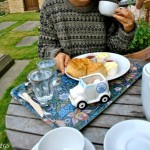 parks and old trees, as well as beautiful old buildings–what more could one need?
Well, obviously, tea, but Oxford has that as well.
Until next time….