I SAW GIRAFFES!!!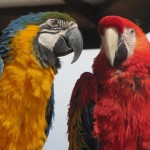 Rachel, a friend of mine and one of the most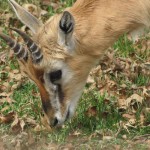 wonderful people I know, took me to a zoo–Brights Zoo in Limestone Tennessee, in fact. We walked around and saw all sorts of animals–mostly animals from Savannahs, since the climates are similar  in summer, as is the grazing. It is still a bit chilly in the mornings here, so it wasn't until the second time around the park, when the sun came out, that many of the animals came outside.
Going around the corner, I couldn't speak; there, standing in a paddock, were 3 giraffes!
Everybody has that special thing–a blanket or stuffed animal–that was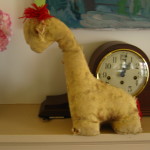 their special little security thing when they are little. Mine was Giraffe. He was a medium sized stuffed giraffe (that's how he got the name). When I was 7, we moved 3979 miles, across the Atlantic. I had my pillow and Giraffe. He was a good listener and a reassuring friend, and he could be flipped over and used as a machine gun when flying over France trying to shoot down Eddie Rickenbacker. I don't think I have ever lived anywhere without him.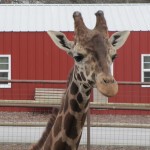 I have seen giraffes at zoos before, but generally from a distance. I was able to stand up on a platform eye to eye. They are graceful and very tall. They are a little mischievous, and have a purple tongue that is almost 2 feet long. They are quiet, mostly because breathing all that way can be rough, but can make moaning or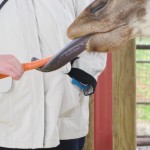 bleating noises. I have a friend who once followed a herd (a tower? who comes up with these things?!?) on a motorcycle to see what noise they made, but apparently they have non-verbal ways of saying "what's with the creeper on the motorcycle?" because they stayed quiet. And they have huge beautiful eyes with long eyelashes.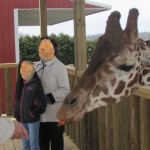 I think I just stood there with my mouth open for 5 minutes, unable to speak (really unusual for me). Honestly, I felt like dancing around and squealing, but at my age that is difficult to pull off. Rachel bought a carrot for me to feed to him. All the rest of the day I was saying "I saw a giraffe!!!" to
anyone who would listen.
Life has had its ups and downs lately, but for just one moment, I couldn't ask for more. The sun was shining, and I was hanging out with a good friend and with giraffes. What more could you want?