It is nearing Saint Patrick's day, so I am rerunning this.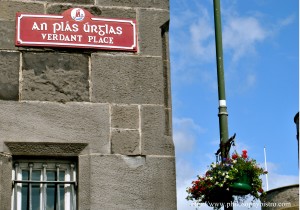 Ireland is beautiful and very, very green. It really is called the Emerald Isle for a good reason. I once drove through England to Ireland in a drought. England looked like a sun-faded newspaper, and–even though locals kept telling us how bad the dry weather was–Ireland was lush. That summer, it rained ever night from midnight to around 4, and then cleared.
If you have a low tolerance level for quaintness, I would advise you never to visit.
We flew into Shannon, because we decided that we wanted to force ourselves to see the Irish countryside, and were afraid that otherwise we might get stuck only seeing Dublin—lovely in its own right, but not the country.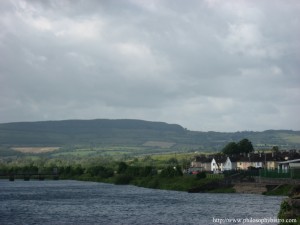 We knew we would be arriving at 6:30 am local time, and that it would feel like 2:30 am to us, so we didn't have anything specific planned. We managed to find our way to the bus, and climbed up to the second story. Apparently, all Irish (and most Scottish and English) bus drivers are expected to drive like the night bus from Harry Potter—lurching back and forth, taking turns at frightening speeds, etc.—but we were also driving across green rolling hills, past stone cottages;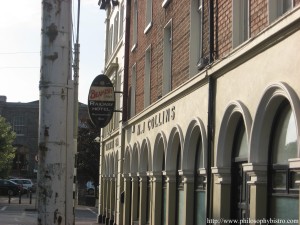 castles, all under a brilliantly stormy sky.
We unfolded ourselves at the train station in Limerick, and found the Railway Hotel (Lovely! I would recommend it). The check-in time was 2:00 in the afternoon, and the clerk frowned as we walked in. She suggested we eat breakfast, and I realized she was frowning because she was trying to think of a way to allow us to check into our rooms early.
Inhabitants of North America distinguish themselves by smiling (also, with the help of bleach and orthodonture, shiny, perfect teeth). We expect it of others, and when others don't smile, we think that they are frowning, or troubled, or rude, or even hostile. To a lot of the world, the constant pleasant smiling seems artificial, and I think I agree, even if it takes some getting used to).
That first breakfast in Limerick was one of the best meals we had—Irish brown bread toast and jam, strong Irish breakfast tea, scones, a full Irish breakfast (rashers? black pudding? white pudding? roasted tomatoes?), porridge—it was so good, I have tried to duplicate the bread.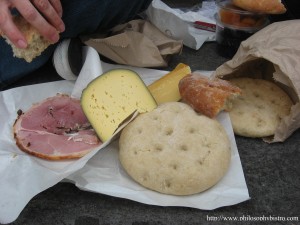 After a nap into the afternoon, we wandered about Limerick, and found a local farmer's market that was just shutting down. The very Irish and very sturdy looking lady behind the counter at the cheese mongers frowned at us, then gave us samples of several cheeses, discussing where each had come from, and how long each was aged, and we left with supplies for a plowman's lunch down by the wharf.
Again and again, we encountered Irish natives who were friendly and kind—the bartender at the Bram Stocker hotel warning us with a heavy brogue that the people in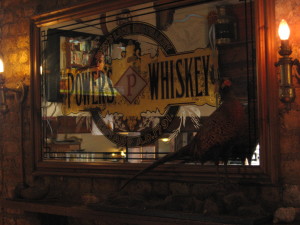 Cork "spoke funny and are hard to understand," the Dublin cab driver who refused to take us to Cornucopia on Wicklow Street—"Oh, I'd be embarrassed; it's only t'ree blocks, now. Just cross the bridge and through those tall buildings" (I knew how far it was—6 blocks—and I had a 20 pound pack)—although often, the kindness was about fixing something that had gone wrong.
Things going wrong is apparently common in Ireland, and they all seem to have developed what I think of as "a bemused complacency towards the fecked-up-ness of it all" ("Oh, I can't sell you a ticket on the bus; you can only get those from a machine, and that one there, it is broken. Marvelous!" "They closed at 3:20? How odd.") It did surprise me that I had trouble getting used to the b.c.t.f. (as well as the occupied frown), since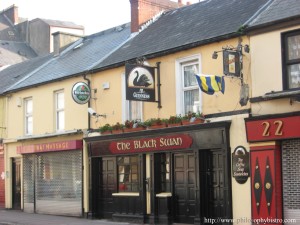 those are both things with which I face the world. That and the heavy lidded Irish eyes that are part of my genetic heritage.
Another odd observation, though: any given block in Ireland seems to have two pubs, a bookie shop, a homeless person or two and their dogs, and a pro-life billboard. It seems to me that there are vices that might be more important to fight than allowing a woman the right to choose, but, then again, Ireland only reluctantly legalized birth control.
.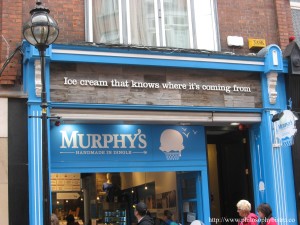 It was one marvel after another–a beautiful countryside here, a harpist there, music in a pub, the stormy skies at sunset, the voices–Irish is not so much an accent as a cadence, a lilt, a language sung softly. Kind people, great ale, and wonderful food–yes, my friends: the French were polite and the British Isles had good food; re-examine your prejudices!
If you are ever in Dublin, drop by the Murphy Brother's Ice Cream Shop. They are always smiling.
Of course, who wouldn't, spending the day around ice cream hand-made in Dingle. ("hand-made in Dingle" that makes me giggle.)