This has been a long term experiment that started back sometime in June. Although the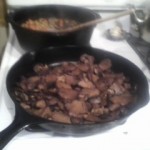 Sauerbraten in June was good, it wasn't great, and I went back to the drawing board. Several of the attempts were positively awful, but at last, this week, I had a batch I was fairly happy with and I ran it past my quality control friends (thanks, Meg & Rachel), who also seemed to approve.
The earliest ve3rsions of this recipe were appropriated from the Post-Punk Kitchen (http://www.theppk.com/2009/11/homemade-seitan/), which also has a new cookbook out. It took some tweaking to make it my own.
Ingredients:
1 cup wheat gluten (available in boxes, but try to get it bulk; it's cheaper)
3 Tbsps. nutritional (brewers) yeast
1/2 cup cold vegetable broth (or fake chicken broth or fake beef broth)
1/4 cup soy sauce
2 tablespoons fresh lemon juice
1 tablespoon olive oil
2 cloves garlic
For the simmering broth: 
4 cups vegetable broth
4 cups water
1/4 cup soy sauce
Fill a stock pot with the water, broth and soy sauce, cover and bring to a boil.
In the mean time, in a large bowl mix together gluten and yeast.  In a smaller bowl mix together broth, soy sauce, lemon juice, olive oil and garlic. Pour the wet into the dry and combine with a wooden spoon until most of the moisture has absorbed and partially clumped up with the dry ingredients. Use your hands and knead for about 3 minutes, until it's an elastic dough. Divide into 3 equal pieces with a knife and then knead those pieces in your hand just to stretch them out a bit. Let rest until the broth has come to a full boil.
Once boiling, lower the heat to a simmer. Add the gluten pieces and partially cover pot so that steam can escape. Let simmer for 45 minutes, turning occasionally. Turn the heat off and take the lid off, let sit for 15 minutes.
Remove from broth and place in a strainer until it is cool enough to handle. Wrap it in a clean cloth (it will get stained)  and wring out as much of the excess moisture as you can.
Store in refrigerator until needed.
Slice and use as desired.